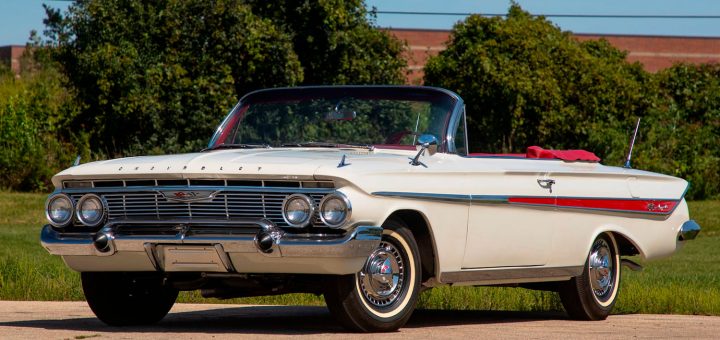 The Chevy Impala has long been one of America's favorite Bow Ties, and for good reason. It was introduced in 1958 as a prestige vehicle, the pinnacle of the Bel Air coupes and convertibles. Millions of Impalas were sold over its lifetime. Some of those were very rare, some had amazing performance, and some had extraordinary technological advancements. This is in no way a list of all the collectible Impalas, but a handful of remarkable offerings.
If you are looking for a new Chevy, visit our website or give Ron Westphal Chevy a call at 630-898-9630.
1958 Chevy Impala Rochester Ram Jet Fuel Injection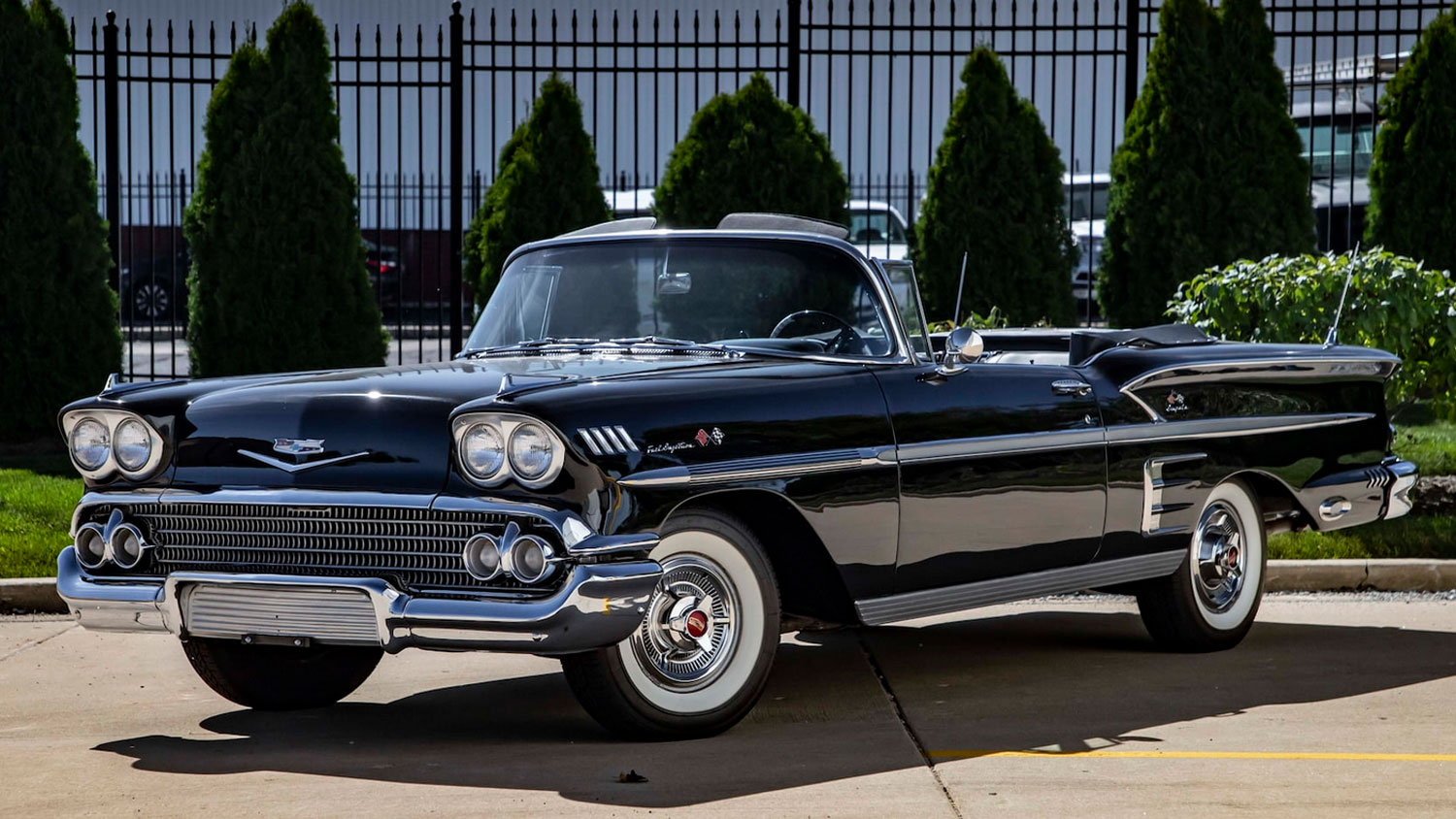 The Chevy Impala bowed in 1958 as part of the Bel Air line-up. The 1958 model-year offerings were built on a new X-frame that allowed the cars to be longer, lower, and wider. The Impala was Chevrolet's top-of-the-line full-size offering. It was offered with a Blue Flame inline-six for those who wished for style on a budget.
The V8s were the way to go if power was what you were after. You could have a Turbo Thrust 348 cubic-inch W-Series V8 making up to 315 horsepower depending upon carburetion, or you could get something a bit more exotic with the 283 cubic-inch Small Block topped with Rochester's Ramjet Fuel Injection. This combo yielded 290 horsepower. Fuel injection's advantage was its ability to equally distribute the fuel-air mixture to all cylinders. The downside was the price; the 283 Fuelie was $484 versus $162 for the high-horsepower 348 with three deuces. Exact production numbers aren't available, but very few 1958 Impala Fuelies were produced. Hagerty Price Guide #1 condition value for Fuelie Coupes is $84,300, and for Fuelie Convertibles it is $146,000.
1961 Chevy Impala SS 409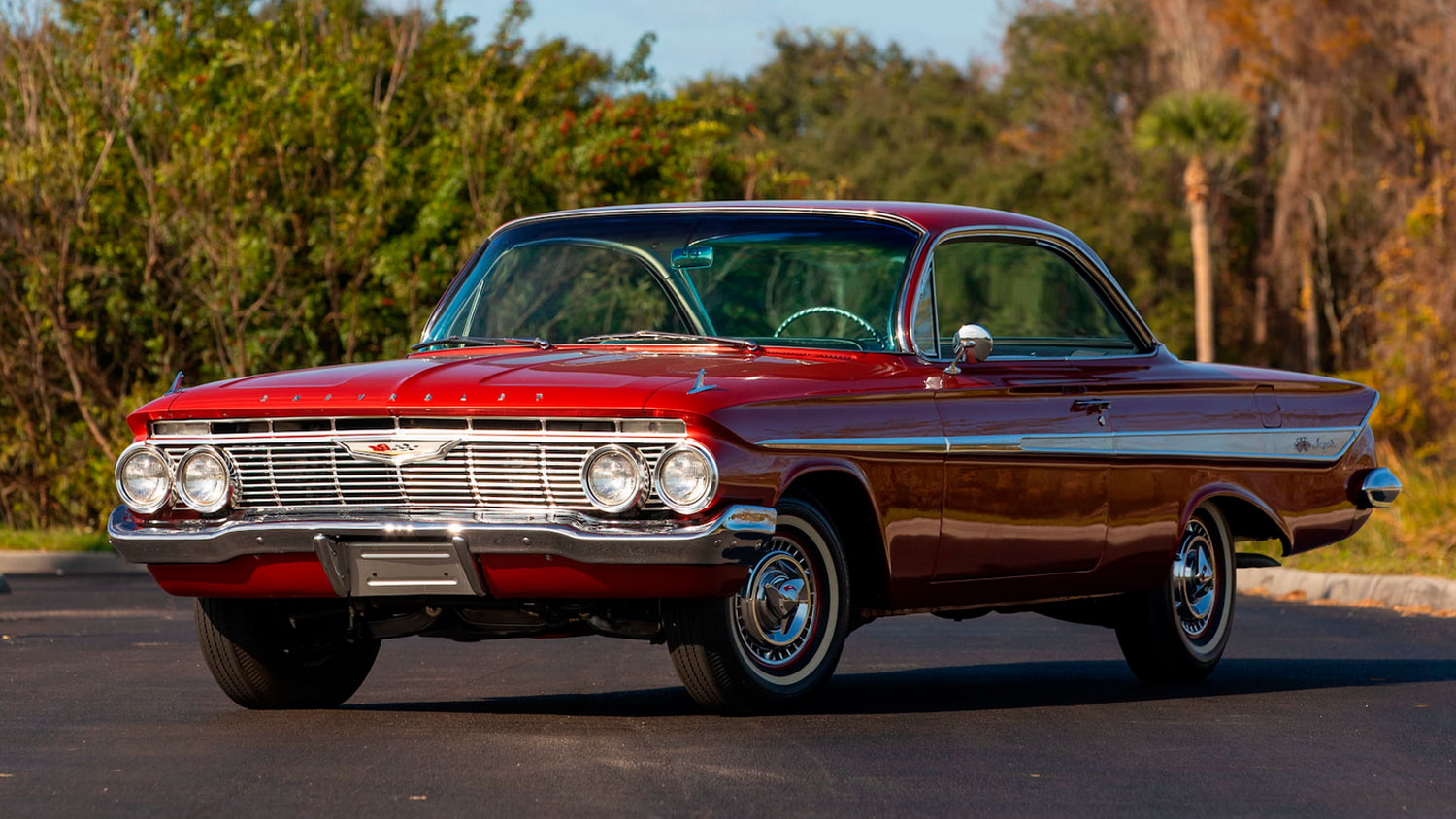 The Super Sport (SS) package was added as a mid-year option for the Chevy Impala. It was available on all Impala body styles, and consisted of Super Sport trim inside and out, chassis reinforcements, power steering, power brakes, special sintered metallic brake linings, stronger springs and shocks, and better tires on station wagon wheels.
Engine choices included three 348 engines, each with a single four-barrel carb, producing from 305 up to 340 horsepower, and one 348 with three two-barrel carbs making 350 horsepower. But the one to have was the 409. Known as the Turbo Fire 409, it was a 348 that had been bored and stroked. It was rated at 360 horses with a single four-barrel carburetor. The 409 boasted an aluminum intake, Carter carb, a solid-lifter cam, and an 11.25 to 1 compression ratio. Only 456 Chevy Impalas were ordered with the SS package in 1961, and just 142 of those left the factory with the 409. NADA Classic rates high value on a 1961 Chevy Impala SS 409 with four-speed manual transmission at just over $185,000.
1963 Chevy Impala Z11 Lightweight
Just before GM announced a withdrawal from competition in 1963, Chevrolet the Z11 option was offered on the Chevy Impala. Regular Production Order (RPO) Z11 was a special competition package intended for drag racers and NASCAR. The package included a W-Series 427 cubic-inch V8 based on the 409, but with a longer stroke. The engine had a two-piece high-rise aluminum intake, dual four-barrel Carter AFB carbs, forged internals, a special cowl induction 'cold air' system, and 13.5:1 compression. It produced 430 horsepower and a staggering 575 pound-feet of torque.
Many of the Z11 Impala parts were built from weight-saving aluminum, including the hood, fenders, front and rear bumpers, brackets, braces, the grille filler panel, grille brackets, a two-piece fan shroud, and hood support catch. This resulted in a 300-pound weight savings. As the Z11 was built for competition, the option package eliminated the radio, front sway bar, heater, and sound deadener. There is some debate over total Z11 production, but the consensus is only 50 Z11 Chevy Impalas were ever built. Hagerty Price Guide #1 condition value is $432,000.
1969 Chevy Impala SS L72 427
The restyled 1969 model year marked the final year for the rear-wheel-drive Chevy Impala SS. Fenders had a bit of swell around wheel wells, taillights were now rectangular, and the rear bumper was thinner. A new grille was framed by dual deep-mounted headlights on either side. Vent windows were eliminated. Fewer than 2,500 copies of the 427 SS trim, designated RPO Z24, were built, all with 427 cubic-inch powerplants.
Redline tires, power front disc brakes, and heavy-duty suspension were all part of the package. Three different versions of the 427 were available, the LS1 427 that made 335 horsepower, the 390-horsepower L36 427, or the much more raucous 425-horsepower L72 427. A scant 546 of the L72 version were built for 1969, and then the Chevy Impala SS party was over. NADA Classic rates high value on a 1969 Chevy Impala L72 427 at just under $77,000.
1973 Chevy Impala Air Cushion Restraint System (ACRS)
In the early 1970s, General Motors developed the Air Cushion Restraint System (RPO AR3), the first airbag system. It consisted of both a driver and a passenger side air bag, as well as a lap belt and status indicator light. The ACRS-equipped Chevy Impalas utilized an Oldsmobile-style instrument panel and a four-spoke steering wheel with a rectangular-shaped hub to house the airbags. This system was installed in one thousand Chevy Impala four-door sedans as a test fleet. All one thousand of the Chevy Impalas were painted the same shade of green-gold.
Many of the cars were used by both GM and the Federal government for crash testing. The system was durable, saving a number of front-seat passengers in front-end collisions. Almost all of the ACRS Impalas were eventually disposed of, save for a single example that was restored. The ACRS was subsequently offered in Oldsmobile, Buick, and Cadillac models for the 1974 model year, with similar results. Airbags wouldn't be offered again on GM cars until the end of the 1980s.
For more:  Subscribe to GM Authority for more Chevrolet Impala news, Chevrolet news, and around-the-clock GM news coverage.