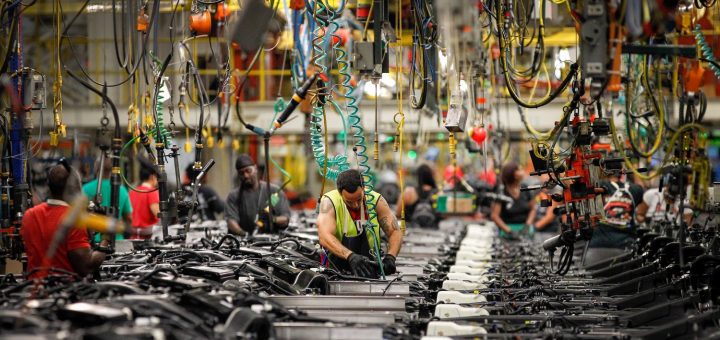 Will your vehicle order get built due the the chip shortage?  The auto industry is grappling with a worldwide shortage in microchips at the moment, curtailing production as microchip supplies dwindle. Now, it's estimated that nearly 60,000 GM vehicles have been cut from the North American production schedule as a result of the shortage.
At Ron Westphal Chevrolet, we have a large selection on new and pre-owned vehicles.  If you have questions about inventory or ordering, please call our Customer Care team at 1-630-898-9630.
According to global automotive forecasting company AutoForecast Solutions, the chip shortage has resulted in production losses approximating some 56,600 GM vehicles, with at least six North American GM production facilities affected.
These include plants in Michigan, Kansas, Kentucky, Mexico, and Canada. The heaviest impacted facility is San Luis Potosi in Mexico, where an estimated 19,500 GM vehicles were reported to have been cut due to the chip shortage. The GM facility in Fairfax, Kansas has reportedly cut 14,800 units from the schedule, while the facility in Ingersoll, Ontario has cut a further 10,900 units.
Units have also been cut from the Bowling Green, Kentucky facility, the exclusive producer of the Chevrolet Corvette.
GM Vehicle Production Losses – North America

| Facility | Production Time Lost | Estimated Units Lost | Vehicles |
| --- | --- | --- | --- |
| Orion Township, Michigan | 1 week in February | 1,200 | Chevrolet Bolt |
| Ramos Arizpe, Mexico | 2 weeks in February | 8,200 | Chevrolet Blazer, Chevrolet Equinox |
| Bowling Green, Kentucky | 2 weeks in February | 2,000 | Chevrolet Corvette |
| San Luis Potosi, Mexico | February, March | 19,500 | Chevrolet Equinox, Chevrolet Onix, GMC Terrain |
| Ingersoll, Ontario | February, March | 10,900 | Chevrolet Equinox |
| Fairfax, Kansas | February, March | 14,800 | Cadillac XT4, Chevrolet Malibu |
"Semiconductor supply for the global auto industry remains fluid," GM said in a statement earlier in February. "Our supply chain organization is working closely with our supply base to find solutions for our supplier's semiconductor requirements and to mitigate impacts on GM."
In a statement last week, GM CEO Mary Barra said that the chip shortage would not affect production of GM's highly profitable full-size SUV and pickup models.
Thanks for reading about the GM chip shortage.  For more view source:  https://gmauthority.com/blog/2021/02/nearly-60000-gm-vehicles-cut-from-na-production-due-to-chip-shortage/