CR previews the all-new 2019 Chevrolet Silverado ahead of the Detroit Auto Show, revealing new appearance, engines, and features.
The 2019 Chevrolet Silverado unveiling was arguably the most important event of this year's Detroit auto show.
Find out more about the 2018 and all new 2019 Silverado at Ron Westphal Chevrolet.  Call our Customer Care Team now at 630-898-9630.
The Silverado is not only General Motors' best-selling vehicle, but it's also the second best-selling vehicle in the U.S., trailing only perennial rival the Ford F-150. And the F-150 was updated recently. Meanwhile, Ram is showcasing an all-new full-sized truck in the Motor City this week, as well.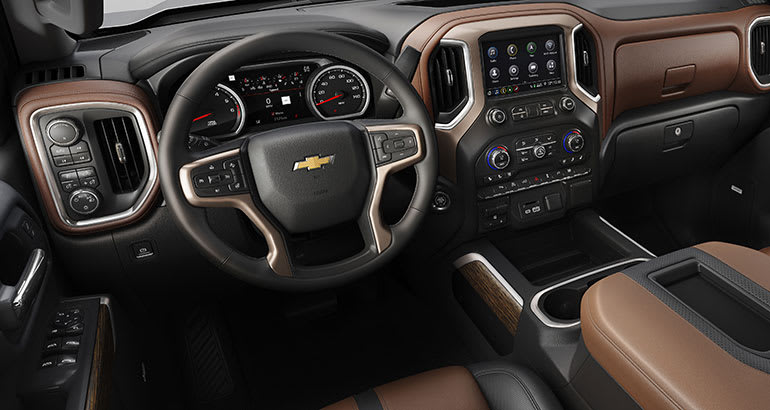 In boasting about this ground-up redesign, Chevy poked fun at the F-150's all-aluminum body, with Mark Reuss, GM's vice president of global product development, saying a good pickup bed is just as important as a good hammer.
Reuss said not a lot of work would get done if you chose an "aluminum hammer."The quip may play well with the target pickup-driving audience, but Ford has remained committed to what it describes as "high-strength, military-grade" aluminum for its bed and body—a combination that helped the F-150 save about 700 lbs. with its last redesign.
While the new Silverado does indeed have a steel bed, its parts that swing open, such as the doors, hood, and tailgate, are now crafted out of aluminum to trim pounds, something automakers do to try to increase fuel economy.
For a V8-powered Crew Cab truck, Chevy estimates that it has cut approximately 450 pounds from the Silverado versus the outgoing model through careful design and use of aluminum and high-strength steel. Chevrolet's weight loss regimen should help boost acceleration, along with fuel economy.
Despite the hype around the Silverado's new, svelter self, Chevrolet did not reveal fuel economy estimates during the event.
The new Silverado is designed to appeal to a wide range of customers, thanks to eight distinct trim levels (the same number of trims as before) that range from bare utilitarian to posh urban cowboy, and numerous powertrain options.
Features include not only 4G LTE WiFi capability and a wide range of smartphone apps, but also an industry first: a power tailgate that can be raised and lowered remotely, with a press of a button on the keyfob.
The current Silverado is competitive because of its quiet cabin, and relatively easy access thanks to its manageable step-in height. It benefits from an easy-to-use infotainment system. We expect these virtues will be continued.
The eight trim levels start with the classic Work Truck, a barebones model that targets commercial users. The Custom remains a simple truck, augmented with some cosmetic upgrades.
For those looking for a budget off-road setup, the Custom Trailboss adds a two-inch lift kit, trail-ready suspension, and upgraded tires. The midlevel LT dresses the truck up with chrome details, LED lights, and 8-inch infotainment screen. The LT Trailboss adds the off-road package to the LT, creating an upscale, yet adventure-ready model.
The top High Country has premium features throughout, from an exclusive grille to power tailgate, and everything in between.
A total of six engines will be available, including two V8s (5.3-liter and 6.2-liter) which can run on only a single cylinder to save fuel, thanks to the truck's dynamic fuel-management system.
A 3.0-liter, six-cylinder diesel also joins the Silverado's engine lineup for the first time. This engine will come paired to a similarly new 10-speed automatic transmission.
Drivability has been a shortcoming of the current Silverado, especially with the 5.3-liter V8, as it doesn't always respond quickly when drivers seek more power.
Chevy made space for cargo and occupants a priority in redesigning the Silverado. The bed is wider than before and now features a total of 12 tie-down points, up from four. There is also extra room in the cabin, where the Silverado's slightly longer wheelbase translates to several more inches of legroom for in the backseat in Crew Cab models.
Look for the 2019 Silverado to go on sale this fall. Exact pricing information and fuel economy figures will be revealed closer to the pickup's official on-sale date.
Chevy didn't release details on what advanced safety equipment the new Silverado will get, saying it will be announced later this year.
We look forward to pitting the new Silverado against the new Ram and see how they fare against CR's current top-rated full-size pickup, the Ford F-150.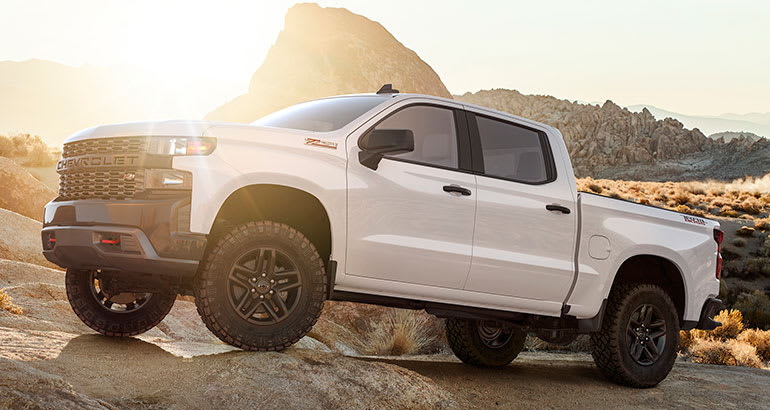 Source: Chevrolet's Big Bet: The Larger, Lighter 2019 Silverado Pickup Truck